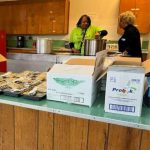 Compassion in Action: Mondays at Magnolia Avenue United Methodist Church
October 26, 2023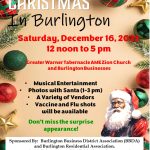 Celebrate Christmas in Burlington!
December 6, 2023
Discover meaningful ways to make a difference this holiday season. From donations to supporting small businesses, we can all contribute to spreading joy and compassion.
---
The holiday season is a time of joy, giving, and coming together. It's a season where the spirit of kindness and unity shines brighter than ever. At CONNECT Ministries, we believe in the power of making a difference in our community, and we invite you to join us in spreading the joy during this special time.
1. Donate to Support Those in Need
One of the most impactful ways to make a difference is through donations. Your generous contributions can support individuals and families who are in need. Consider donating food, clothing, or toys to local charities. Every small act of giving contributes to a brighter holiday season for someone less fortunate.
2. Give the Gift of Time: Volunteer
Time is one of the most precious gifts you can give. Volunteering at local organizations can have a profound impact on those you're helping and on your own sense of fulfillment. Whether it's serving meals at a shelter, participating in community clean-up efforts, or mentoring someone in need, your time and expertise are invaluable.
3. Support Small Businesses: Boost Your Community's Economy
Small businesses are the backbone of our community's economy. When you shop local, you're not only finding unique and thoughtful gifts, but you're also supporting your neighbors' dreams and livelihoods. Small businesses often depend on holiday sales to thrive, and your support can make a significant difference.
4. Reach Out: Simple Acts of Kindness Matter
A simple act of kindness can brighten someone's day. During the holiday season, make a call to a loved one you haven't spoken to in a while, send a heartfelt card, or check in on a neighbor who might be feeling alone. These small gestures can have a profound impact on someone's well-being.
5. Share the Love: Inspire Others to Give
Your enthusiasm for making a difference can be contagious. Encourage others to join in the spirit of giving. Share this post, and inspire your friends and family to take part in spreading joy and compassion during the holiday season.
This holiday season, let's come together and make it one of warmth, compassion, and unity. Each one of us has the power to create a brighter, more inclusive world. From donating to volunteering, supporting local businesses to reaching out to others, your actions can make a significant impact. Let's work together to make this holiday season one to remember, filled with love and kindness.